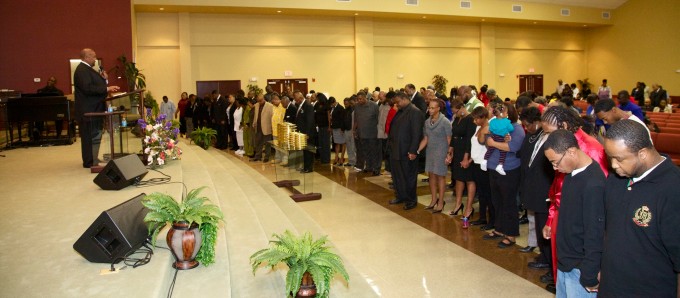 Make this your common practice: Confess your sins to each other and pray for each other so that you can live together whole and healed. The prayer of a person living right with God is something powerful to be reckoned with. Elijah, for instance, human just like us, prayed hard that it wouldn't rain, and it didn't—not a drop for three and a half years. Then he prayed that it would rain, and it did. The showers came and everything started growing again. James 5:16-18 (The Message Bible)

Prayer Request Form
prayer request

posted by: li cross on 6/15/2018


Not to lost my job in the Administration Wing to preach the gospel.
I will pray

2 people are

praying.

Hi

posted by: Sarah Zook on 5/23/2018


I'm very suicidal I was wondering if you could pray for me
I will pray

4 people are

praying.

Healing


Please pray for Missy's health and healing. She has been suffering almost her entire life (16 years). Thank you
I will pray

12 people are

praying.

Marriage Reconciliation

posted by: Danielle Y on 3/24/2018


My name is Danielle. My husband Keith has filed for divorce. We are currently living apart and our marriage is hanging on by a thread. Please pray that my husband will forgive me for the things he holds against me. That we will get to the root of our problems and that God will change both of our hearts. Please pray that God will rekindle my husband's love for me. That He will heal past hurts and resentment. My husband is considering attending a marriage retreat next month as a final effort. Pray that he will go. Please pray therapist's wisdom and guidance because these sessions will determine the fate of our marriage. Please pray that God gives me the right words to say; words that will comfort and heal his heart. That our marriage will be completely restored and healed.
I will pray

13 people are

praying.

Health

posted by: Stephen Smith on 1/16/2018


Requesting prayer for better health, my health has declined a bit from lung and heart decease.
I will pray

17 people are

praying.

Job Success

posted by: Jonathan Ashbeck on 10/16/2017


I have two part time jobs now and I am so blessed that God gave me those two jobs and I pray so that I may do well on those jobs.
Amen!

16 people are

praising.

Prayer Request

posted by: Phil Chavez on 9/11/2017


Please Pray...I'm 45 ,Never been in a relationship,been praying for relationships for over 22 years.Please Please Pray GOD sends me (Phil Chavez) life partner quickly real soon In JESUS Name
I will pray

25 people are

praying.

Please pray

posted by: Edmund Krzeminski on 9/10/2017


[We read] In the King James Bible, Ezekiel 22:30: "And I sought for a man among them, that should make up the hedge, and stand in the gap before me for the land, that I should not destroy it: but I found none." O God, please help us and teach us to build a wall [of prayer] around the USA, Canada and Poland. Are you ready to stand in the gap, where God is the Helper and Teacher? Please pray that Poland, the USA/Canada would overcome for: (The Acts 26.18). * Poland, pray for freedom from dead religion to saving faith in God through Jesus Christ as the Saviour and the Lord by grace only, * the Church in the USA, Canada – Pray for repentance and cleansing of the church--Matt. 3.12 "Whose fan is in his hand, and he will thoroughly purge his floor, and gather his wheat into the garner; but he will burn up the chaff with unquenchable fire." * my family: 1. Stir up the hearts of my family for ministry—for me, my wife Dorothy, our daughter Ann, and our sons Peter and Daniel - "..but as for me and my house, we will serve the Lord" Joshua 24.15 2. Pray God's will and wisdom for me and my family; I ask God for great wisdom in school for Daniel, and for Edmund's work situation, for Dorothy and Peter (also God's direction for his life) and Ann (Ann needs a husband), 3. God's order in my work. I ask God for great wisdom at my work. Blessings and the knowledge of Jesus Christ for my bosses. Thank God for the continuation of my work. Edmund Krzeminski
I will pray

21 people are

praying.

Father protect us


Fast & pray. Heavenly father forgive all our sins (me, daughter, husband). Touch & heal our mind-body-soul. Father control my mind (uneven thoughts could not control). Do not leave me. Touch & heal my fingers & palm. Keep my daughter healthy-happy. Shower YOUR blessing of good health- knowledge-wisdom-joy-peace on her. Help her in study-exam. Give her strength. Provide all her needs. Protect us from all evil-illness-infection. Provide me finance. Protect me at my job place, no one may harm me. Destroy all his sister's plan to visit him. Remove my husband's stony heart. THANK YOU. IJN Amen
I will pray

16 people are

praying.

prayer request for beleagured

posted by: phyllis bettison on 9/6/2017


Holy Father please protect me from all evil and unrighteousness as I seek admission to a nursing home because of my schizophrenia and my inability to find any employment since 1991 being fired from the usps. I developed the disease after being given antipsychotics in Federal prison(1992) and in Christ hospital aprox 6 years later. Proverbs says that the poor are hated by people, and It is often true, I pray LORD that you provide a respected and dedicated spokesperson for suffers of schizophrenia, as they are often exploited,discriminated against, and rejected by society,family, and friends. I pray Holy father that you make it possible for these people to receive the financial support that they need to live independently. Alot of these people are seen as demon possessed and rejected by the church. Alot of them are also chronically poor and homeless especially in the state of Illinois. It is a shame that the Federal Government prosecuted me feloniously twice then treated me for schizophrenia later in prison and while I was on probation. For malicious mischief(1992) and larceny(2002). Thank the LORD for his Grace and Mercy, Grace and Peace to us all. Proverbs 14:20King James Version (KJV) 20 The poor is hated even of his own neighbour: but the rich hath many friends.
I will pray

17 people are

praying.