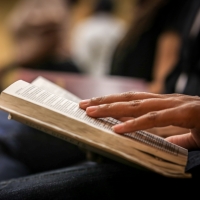 Fast Guidelines: March 5-18
by Pastor Jackson | March 4, 2018
As we fast together corportately as a church family, we are focused on a SHIFT in 2018. Each week, we are focused on 'adding' to our spiritual growth and development as individuals and a church family. Below are the guidelines for Monday, March 5th-Sunday, March 18th.
1. Meditate and sit still for at least 20 mins! (Journal only!)
2. Intentionally pray 4 times a day...split these times up during the day!
3. Intentionally seek to do one good deed per day!
4. Intentionally meet and state your name to one person you don't know of another race!
5. Visit call or check on one person who is sick and shut in or experiencing a life challenge, can't get to church, etc!
6. Eat at least one meal at home at the table with your family at least once this week! No restaurant!
7. Resist the tendency to murmur and intent and be mindful of God in every situation!
Psalm 51:1-9; Romans 8:1-4; Psalm 51-10-12; Romans 8:5-9; Lamentations 3:19-23; 1 John 4:7-12; Matthew 6:25-34